Baldur's Gate: Enhanced Edition. The storyline fills the gap between Baldur's Gate and Baldur's Gate II. It was developed by Beamdog, who developed the first and the second enhanced edition. It was released on 31 March 2016.
Baldur's Gate: Siege of Dragonspear (SoD) is downloadable content (dlc) for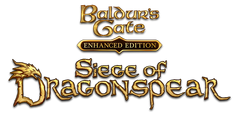 There're 11 SoD items which can be imported into Baldur's Gate II: Enhanced Edition.
See also
Edit
Ad blocker interference detected!
Wikia is a free-to-use site that makes money from advertising. We have a modified experience for viewers using ad blockers

Wikia is not accessible if you've made further modifications. Remove the custom ad blocker rule(s) and the page will load as expected.