Lamalha
is a cleric of
Cyric
sent by the
Iron Throne
to kill
Gorion's Ward
. She waits in the
Area East of Carnival
(Valley of the Tombs) just north of the exit from the
Nashkel Mines
with a party of ranged-weapon fighters and another cleric:
Telka
,
Maneira
and
Zeela
.
Unlike other would-be assassins that have been encountered thus far, Lamella and her crew are a serious threat. They may well be the most challenging encounter faced so far, particularly for parties that rely heavily on melee rather than ranged attacks.
Lamhalha favours debilitating mind-control spells such as Rigid Thinking, as does Zeela.
"
You there, is your name <CHARNAME>? Hurry up and answer. Your answer better be the truth, for your life depends upon it.
"

— Lamella
"
Lighten up, girl. We're not going to tell you our name, so why don't you and your little amazons wander back to wherever you came from?
"

— wrong answer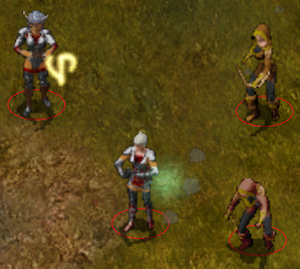 Lamealha and her "little amazons"